Getting Married at the Driftwood Spars
Here at The Driftwood Spars we pride ourselves on providing a bespoke service with a relaxed atmosphere.
Our beautiful Seaview Dining Room is a fantastic location for your ceremony, wedding breakfast & evening celebration.
Our Cliffside garden is the perfect spot for drinks and canapés (weather depending) You will also have exclusive use of the Fishing Loft Bar.
We can also offer our rustic Wheel Room us you need any extra space, (Available at an additional cost) It's also the alternative to the cliffside garden in the unlikely event of rain.
When it comes to drinks we are able to offer casks of ale from our own brewery as well as a massive selection of ales, spirits, cider, lager and even cocktails.
Our fantastic chefs produce delicious, locally sourced food and they've created a selection of menus for you to choose from, If you'd like any alterations or have any dietary requirements please ask.
We have 15 bedrooms which we will hold for you and your guests, for up to three months before the wedding. There is a two night minus stay in all rooms which increases to three nights in school holidays.
Special Offer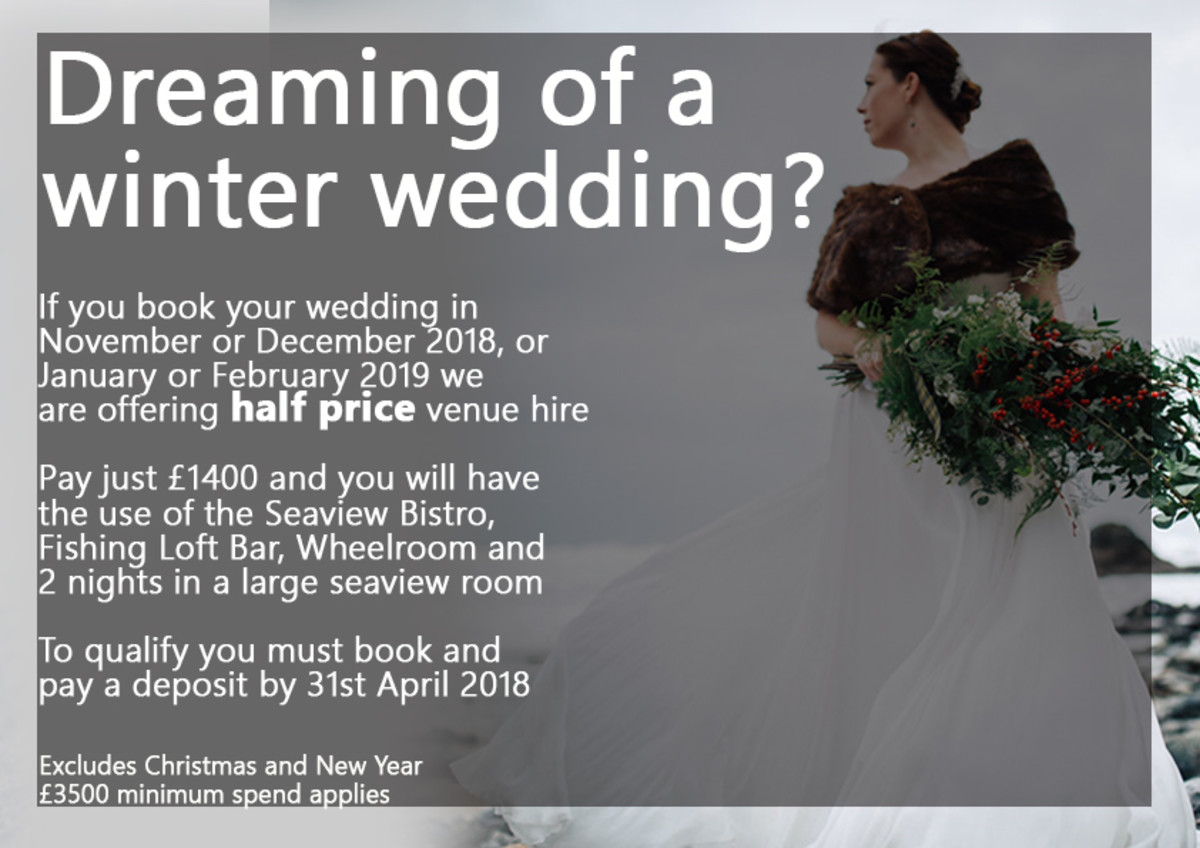 Prices
Our ceremony fee is £600.
Room hire is £2200 which includes the exclusive use of the dining room. Fishing Loft Bar, Cliffside Garden or Wheel room and two nights stay in the bridal suite.
There is a minimum spend of £5000 between the 1st April and the 31st October.
For a mid-week wedding (Monday - Thursday) we offer and 10% discount on the room hire and ceremony fee.
For a wedding between the 1st November and the 1st April we offer a 10% discount.
Read Our On-Line Wedding Brochure
Our wedding brochure below, shows off some of the fantastic photos of previous wedding events at the Driftwood Spars and gives you a taster of what you could do on your special day.